Battletech: FAL-5A
FALSTAFF
18 December 2017 battletech boardgames mechs scifi
I just grabbed a copy of Battletech 2nd Edition off of eBay. It's a game that I've wanted to try out for a long time, and since from what I've read the basic rules have changed very little in the last 20+ years, I figured I'd start near the beginning and see what there is to see, coming from an OSR mindset.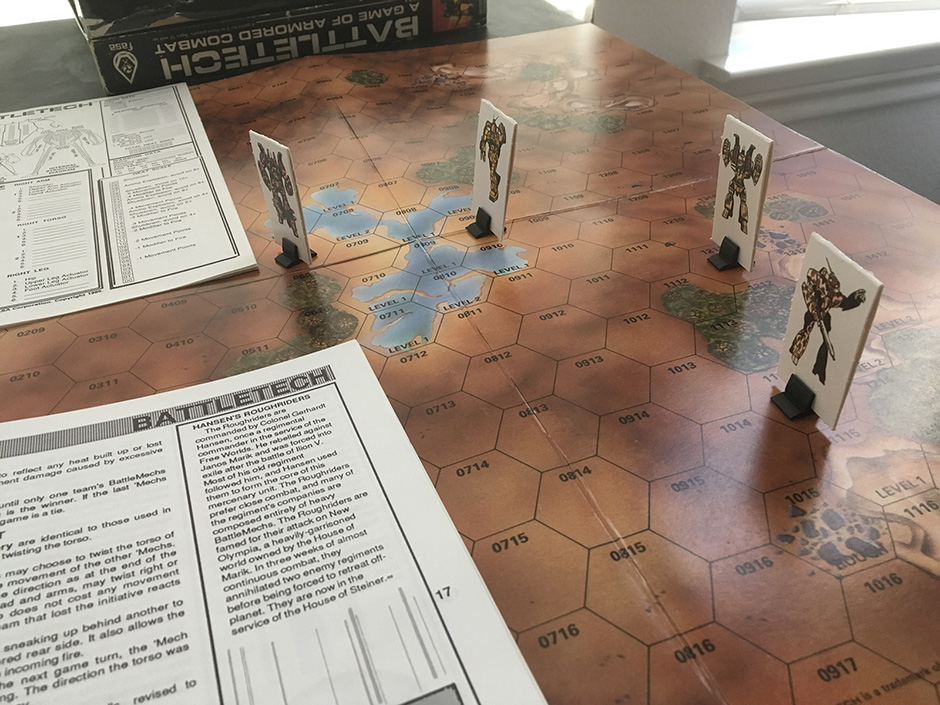 My copy of Battletech, 2nd edition. I can't wait to get miniatures, but the little cardboard cutouts are kinda charming.
After reading the rules, I have a few questions - but overall things seem pretty solid. I'm excited to try the game out, cardboard standees and all, though I've also been looking to pick up some fun mech minis too. There's an annoying thing the rulebook does, which is basically spread the rules out over three different difficulties, without repeating itself, which means by the time you're comfortable with the advance game, you may be running all over the rulebook trying to find a rule. A re-write of just this rulebook with the understanding that players are only going to play the advanced game seems like it would be helpful (and maybe that's what all these future editions are based around), but for now, I'm taking the Battlemech Design rules out for a spin.
FAL-5A Falstaff
I went with making a 100 ton mech, just to see how fucking big you could make this thing, and so far I'm not seeing the big sacrifice, other than movement. I'll have to take this mech out for a spin to see how it does, but being so huge, it has limited movement, but a huge arsenal and a ton of armor. There also aren't any rules in 2nd edition for balancing forces, so I'm not sure how you'd go about constructing your own lance and make sure that it's balanced against your opponent's. Maybe you just pick a certain number of mechs and then have at it?
Type: FAL-5A Falstaff
Tonnage: 100 tons
Internal Structure: 10 tons
Engine: 300 Vlar - 19 tons
Walking MP's: 3
Running MP's: 5
Jumping MP's: 4
Total Heat Sinks: 20
Gyro: 3 tons
Cockpit: 3 tons
Armor Factor: 176 - 11 tons
| | | |
| --- | --- | --- |
| Head: | 3 | 9 |
| Center Torso: | 31 | 42/20 |
| Rt./Lt./ Torso: | 31 | 19/7 |
| Rt./Lt. Arm: | 17 | 12 |
| Rt./Lt. Leg: | 21 | 14 |
Weapons and Ammo:
PPC

Lt. Torso
3
7

PPC

Rt. Torso
3
7
LRM-10
Lt. Torso
2
5
SRM-6
Rt. Torso
2
3
Autocanon
Rt. Torso
4
8
Med. Laser
Lt. Arm
1
1
Med. Laser
Rt. Arm
1
1
Sm. Laser
Lt. Arm
1
.5
Sm. Laser
Rt. Arm
1
.5
LRM-10 Ammo
Lt. Leg
1
1

AC

Ammo
Rt. Leg
1
1
SRM-10 Ammo
C. Torso
1
1
Jump Jets
Lt. Torso
1
2
Jump Jets
Rt. Torso
1
2
Jump Jets
Lt. Leg
1
2
Jump Jets
Rt. Leg
1
2
So, again, not entirely sure if this is a totally viable mech or not, but basically I just wanted to make a huuuuge fucker that could jump on top of people, using the Death-From-Above rules, or could lay back and comfortably doublefist his PPCs without too much fear of overheating. We'll see if it works.
Additionally, I rolled up a MechWarrior to go with the Falstaff. He's a decent shot, but not that great a pilot. Which is probably why they have him manning such a huge lumbering beast.
Name: Niket Kolar
Gunnery Skill: 4
Piloting Skill: 6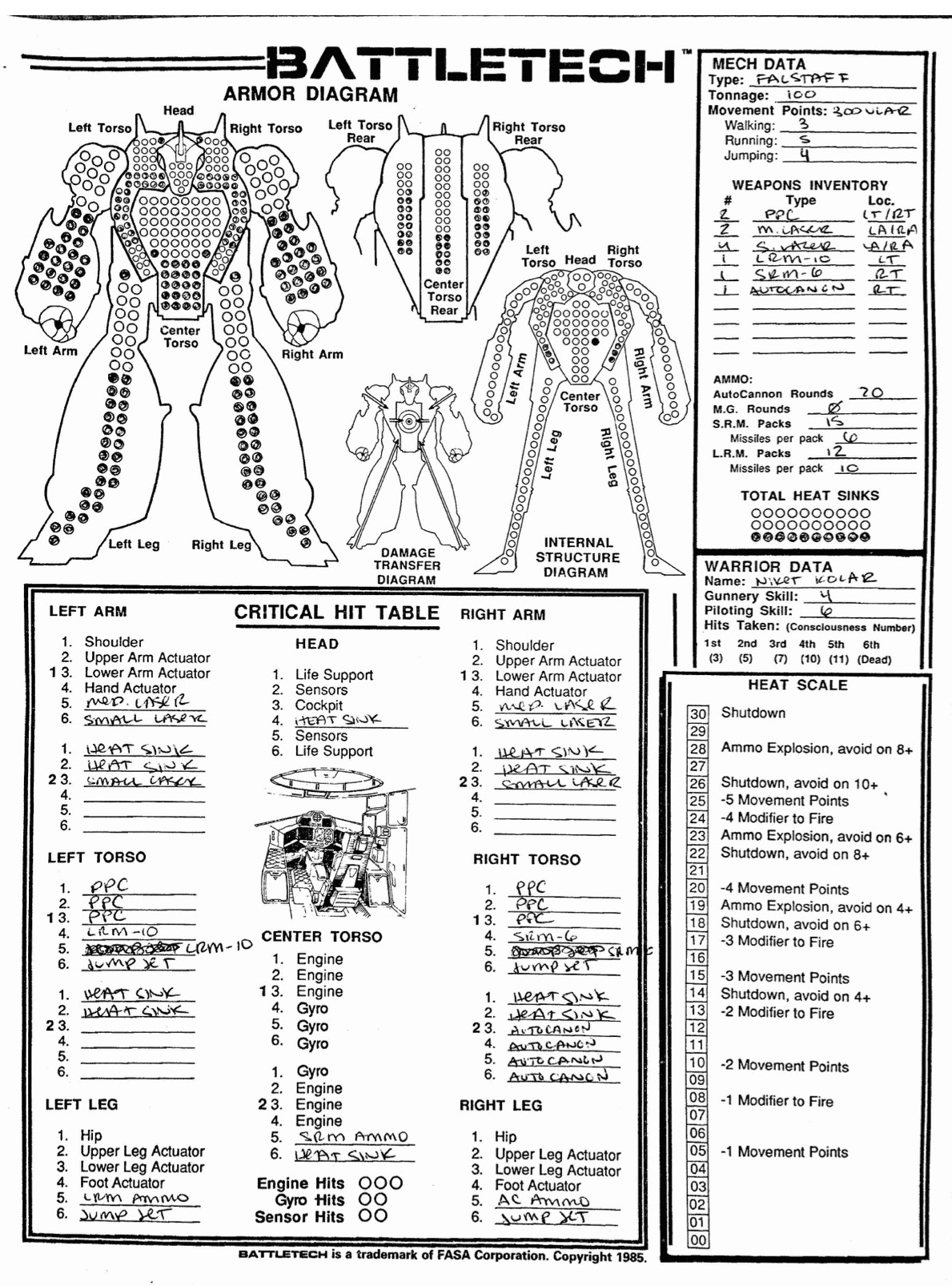 Falstaff's sheet. The armor points were the hardest thing for me to wrap my head around. And it took me a second to figure out how much heat sinks cost in critical space, because it looks like there are a lot of errors and typos in the example given, OR, I am an idiot.
Previous post
What Do The Monsters Want?
One of my favorite tools in D&D is the Reaction table. It's incredibly simple (three sentences of description) and if you want, it can adjudicate
...
Next post
Battletech: HPS-222 HOPSCOTCH
Continuing to take the Battletech 2e mech design rules out for a spin, this time I opted to make the tiniest little tse-tse fly of a mech I could.
...