Divine Right: Minaria as a D&D Setting
31 August 2018 dnd rpgs nilvein hexcrawl maps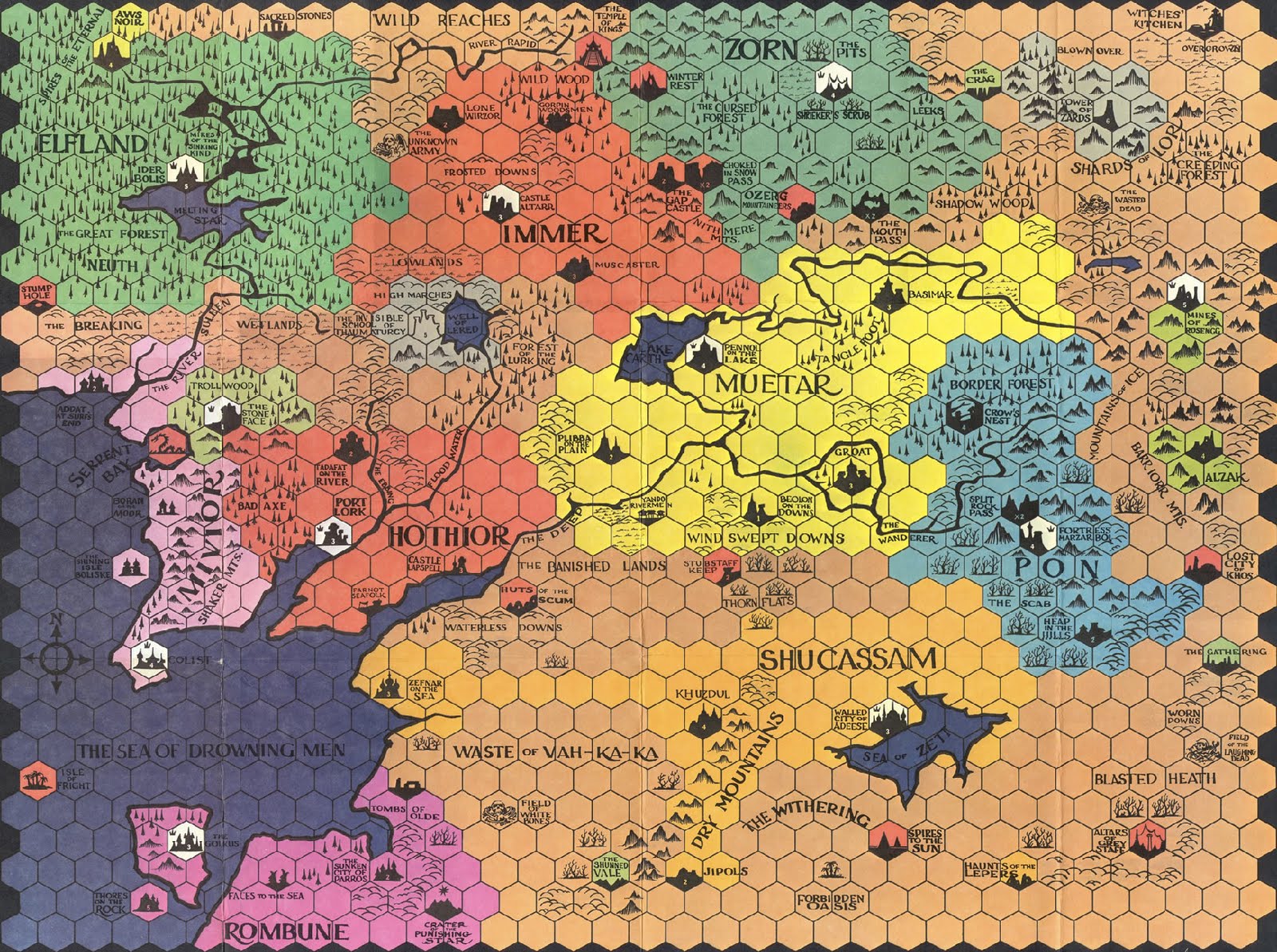 Minaria, as far as I'm concerned the best hexmap every made.
So, I'm starting to put together a new D&D campaign for my niece and nephew to play in and I want to do it up with Megadungeons and Hexcrawling. I didn't want to waste a lot of time with place-names and mapping, so I've taken the best fantasy map in existence and just written everything down on the map so I can start populating it. But here's all of that for you. You can just write a sentence for everything and I think you're pretty ready to go.
In Divine Right the game this map comes from, the numbers on the towns is supposed to mean something, and for me, I think I'm just going to double the number and make that the level of the ruler. So Elfland's capital is Ider Bolis and it's ruled by a Level 10 Elf. The most powerful Wizard in the land rules over the Shards of Lor inside the Tower of Zards. They're a level 12 Wizard. Just like that basically.
The numbers only go up to six, so if you want to do a thing where the PCs are trying to find something in their region, you can roll a 1d6 and put that thing in the city. You can use the number to compare the various strength of regions in a war, go nuts.
For me, some of these named places with black icons are going to be cities, but most of them are going to be ruins and dungeons. That's roughly 60 or so dungeons, ruins, cities, and towns, etc. which seems like way more than enough for basically forever. There's also those little pile of bones icons that there are like five or six of, which I'm not sure what I'll do with yet. But yeah — here are the names! Just copy them into your campaign notebook, write up an encounter table for each region, and then start slotting in your favorite adventures (Death Frost Doom can go at Split Rock Pass in Pon, Winter Rest in Zorn can by your Keep on the Borderlands with the Caves of Chaos going where the Cursed Forest is, etc.)
Elfland
Spires of the Eternal
Ider Bolis (5) [

CAPITAL

]
Mires of the Sinking Kind
Melting Star (Lake)
The Great Forest
Neuth (Forest Region)
The Gathering (Blasted Heath outpost)
The Shunned Vale (Waste of Vah-Ka-Ka outpost)
The Crag (Zorn outpost)
Immer
Wild Wood
Gorpin Woodsmen
Lone Wirzor (2)
Frosted Downs
Caslte Altarr (3) [

CAPITAL

]
The Gap Castle (2 x2)
Muscaster (3)
Lowlands
The Temple of Kings
Winter Rest (Zorn Outpost)
Ozerg Mountaineers (Zorn Outpost)
Zorn
The Pits (4) [

CAPITAL

]
The Cursed Forest
Shrieker's Scrub
Choked in Snow Pass
Nithmere Mountains
Leeks
The Mouth Pass (x2)
Shucassam
Zefnar on the Sea (3)
Kuzdul (4)
Dry Mountains
Jipolis (2)
Walled City of Adeese (3) [

CAPITAL

]
Sea of Zett
Haunts of the Lepers (Blasted Heath Outpost)
Pon
Border Forest
Crow's Nest (4)
Split Rock Pass (x)
Fortress Marzarbo (40 [

CAPITAL

]
The Scab
Heap in the Hills (2)
Mountains of Ice
Muetar
Pennol on the Lake (4) [

CAPITAL

]
Lake Carth
Plibba on the Plain (2)
Yando Rivermen
Wind Swept Downs
Beolon on the Downs (1)
Groat (3)
The Wanderer (River)
Tangle Root (Forest)
Basimar (3)
Aws Noir (4) [Elfland Outpost)
Hothior
Por Lork (3) [

CAPITAL

]
Tadafat on the River (2)
Bad Axe (Forest)
Serpent Bay (Mivior Outpost)
Stump Hole (Elfland Outpost)
The Ebbing (River)
Flood Water (River)
Castle Lapspell (3)
Farnot Seafolk
Huts of the Scum (Banished Lands Outpost)
Stubstaff Keep (3) (Banished Lands Outpost)
Isle of Fright (Sea of Drowning Men Outpost)
Lost City of Khos (Pon Outpost)
Altars of Grey Staff (Blasted Heath Outpost)
Spires to the Sun (The Withering Outpost)
Mivior
Colist (4) [

CAPITAL

]
The Shining Isle Boliske (3)
Shaker Mountains
Boran on the Moor (1)
Addat At Surf's End (2)
The River Sullen
Rombune
The Golkus (3) [

CAPITAL

]
Thores on the Rock (5)
Faces to the Sea
The Sunken City of Parros (2)
Crater of the Punishing Star
Trollwood
The Stone Face (1) [

CAPITAL

]
High Marches
The Invisible School of Thaumaturgy (5)
Well of Lered
Shards of Lor
Tower of Zards (6)
Blown Over
Barriorr Mountains
Mines of Rosengg (5) [

CAPITAL

]
Alzak (4)
Wild Reaches
Sacred Stones
River Rapid
The Unknown Army
Eastern Waste
The Breaking
The River Sullen
Wetlands
Forest of the Lurking
Western Waste
Witches' Kitchen
Overgrown
The Creeping Forest
The Wasted Dead
Shadow Wood
Blasted Heath
Worn Downs
Field of the Laughing Dead
The Withering
Waste of Vah-Ka-Ka
The Banished Lands
The Deep
Waterless Downs
Thorn Flats
#dnd #rpgs #nilvein #hexcrawl #maps