Better Crits for Mothership
7 December 2018 horror mothership scifi rpgs playtesting tables
I spent a little time working on my previous crit table and formatted it for easier use, see below.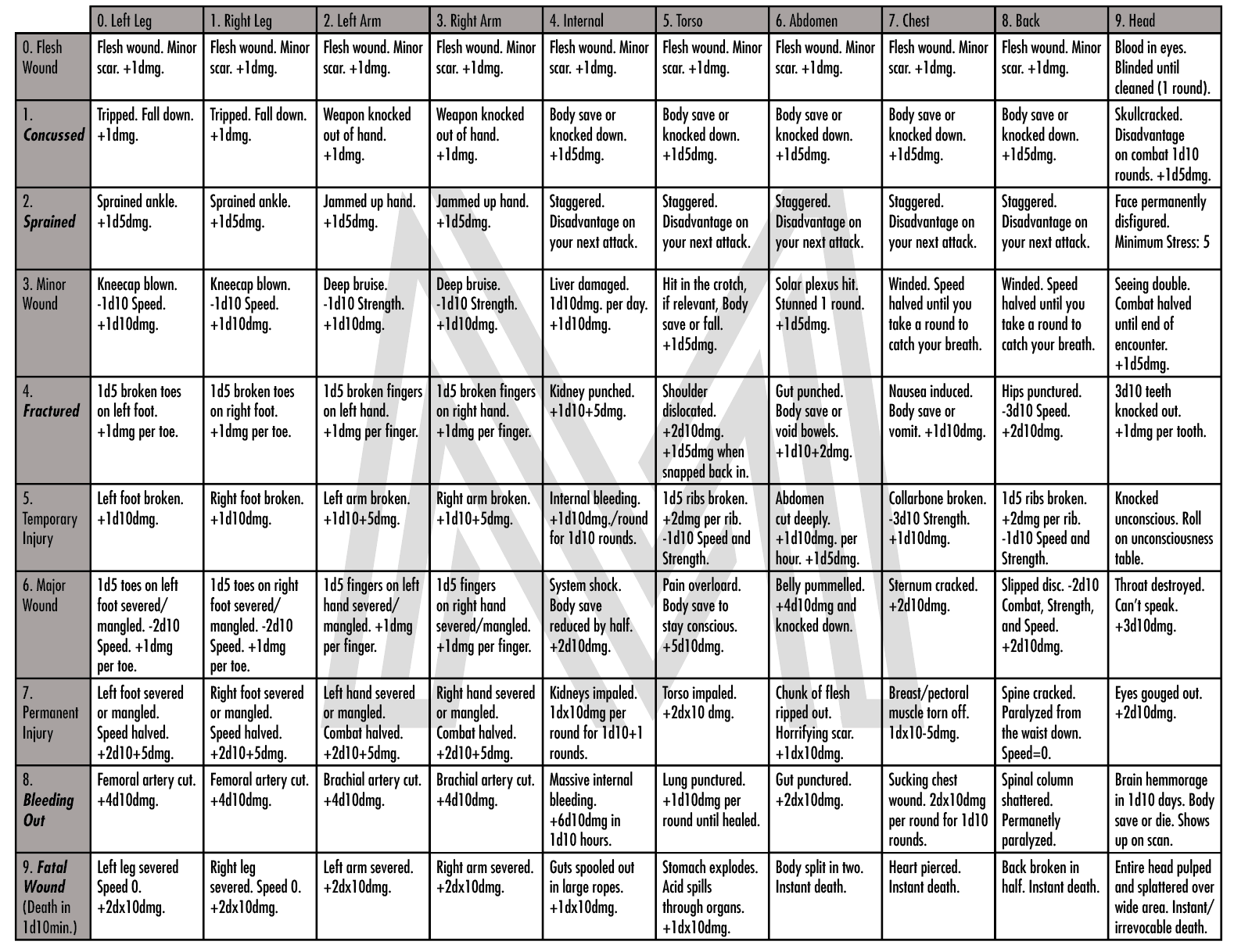 Update Crit Table for Mothership
There are a few terms, bolded on the left hand column, that you'll need to know:
Concussed: You have disadvantage on your next action.
Sprained: The limb in question cannot be used for the remainder of the encounter or until you have a chance to rest for ten minutes. This will take some adjudication on the body/head part of the chart, but I'd recommend something like you gain 1 Stress or 1 Damage per round you use it until you can rest.
Fractured: The limb in question cannot be used until you get medical attention for it. Again, this takes some rulings for the body/head portion.
Bleeding Out: This one is bad. Getting one Bleeding Out option doesn't do anything (other than the state affect) but getting it a second time means you die (or Body save to live, your call). Bleeding can be stopped with successful first aid checks.
Fatal Wound: This just means that you are going to die within ten minutes unless you receive medical help. Probably a first aid check wouldn't cut it, unless its at a disadvantage. Maybe a first aid check and a stimpak and then a rush to the medbay. I'm not sure the best way to handle it, but the point is it should be bad and require immediate assistance from the crew.
There's some interesting stuff you can do with this table. For example: A monster, enemy, or weapon could stipulate as a special effect that you roll on a certain row or column. So you could have an enemy that does, say, 1d10 damage, but on rolls of 1 also forces a crit roll on row 4 (Fractured). So you'd roll a 1d10 to see how bad it is. Or you can have a sniper rifle that allows you to spend a turn aiming and then take a shot with disadvantage. If you hit, you can roll straight on the crit table, that kind of thing. Or just regularly in play, if you know the affected area and you need a crit for it, you can roll there. We had a player in my last game get their eyes gouged out from a head crit using this table, because they put on a VR helmet infected with a technovirus.
Long term: I might remove the conditions from the column and instead just apply them directly to the entries where appropriate. "Hand Fractured. 1d5 broken fingers." that kind of thing. Same with Bleeding, it may just become a condition you could gain by rolling a certain entry.
Previous post
Carousing & Stress in Mothership
One of the big things we're tooling around with in Mothership is adding Carousing as the primary way of gaining experience. Right now, you currently
...